BestConferenceEver = KalamazooX
KalamazooX is the "non-technical conference for technical people". It really is the best conference I've ever attended, and I go every year since the first one I went to – no exceptions. The best part about this conference, is that it's SO FREAKIN' CHEAP for the value! At $75 for standard registration, $35 for students, even with travel and hotel, you'll end up paying way less than any other conference's cheapest tickets.
This is my "official" blurb about KalamazooX – how I feel about this amazing conference, from last year:
I've only attended 5 or 6 different conferences in my career, but the feeling and motivation I get after KalamazooX is incomparable. The single track, back-to-back talks are intense and life-changing. I've meditated and made gratitude lists, been inspired to speak at conferences, laughed, thought deeply about my life, cried – all during KalamazooX. The X conference is definitely one I will never miss – it's always first on my calendar with time blocked off to go. I can learn the latest technologies and best practices at any other tech conference or online. What makes KalamazooX different is the work we're putting into ourselves – it doesn't only change our professional lives but our personal lives as well, all in one amazing conference. I always leave the X conference a different person than who I was when I walked in.
This year, 2016 KalamazooX will be held at the Fetzer Center on the WMU Campus in Kalamazoo, MI, on Saturday, April 30. There's an amazing list of speakers, like every year – Christina Aldan, Kate Catlin, Ed Finkler, Leon Gersing, Jay Harris, Cory House, Lauren Scott, and Alan Stevens.
Do yourself a favor, and sign up for KalamazooX! It will absolutely change your life!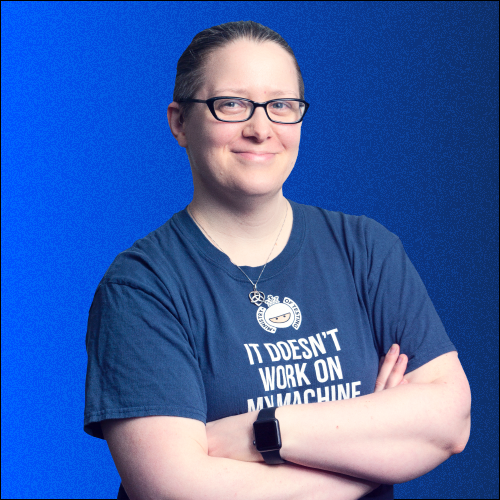 I'm Hilary Weaver, also known as g33klady on the Internets. I'm a Senior Quality Engineer working remotely near Detroit, I tweet a lot (@g33klady), and swear a lot, too.