2020 and 2021 Years in Review, and Looking Forward to 2022
Like many folks, my 2020 and 2021 have not been ideal.
2020 had started pretty well! I spoke at CodeMash in Ohio in January, then at SWETUGG in Stockholm and EuroTestConf in Amsterdam in February. I had a lovely surprise 40th birthday party with my family in March. And then it all kinda went to shit in the world lol Lockdown itself wasn't too bad for my husband and I – we are homebodies anyway and I already worked remotely full time. Lots more video games, and my exercise routines only changed slightly with what I had at home (and ordering new workout equipment for home like everyone else did!). I even did three more virtual talks throughout the year, and I launched a course via Ministry of Testing  (that intro video is one of my best I think). There was some personal stuff that didn't go to plan, and I was supposed to be hosting TestBash Detroit in March which was obviously cancelled. I started on my anti-racist journey (I used to think "I'm not racist", but there's really only being racist and being anti-racist – no in-between). Oh and the whole political landscape here in the US, and the Q believers and anti-vaxxers, and finding out which of your friends and family value science and other's lives over their own convenience. But the year ended with my brother having his last day of chemo for Glioblastoma, renewed hope for the US, and Ministry of Testing putting on a most excellent virtual HolidayBash.
2021 also started pretty well – my Peloton bike finally arrived and I was super stoked to continue my fitness journey with it! But then I started having health issues (I wrote a post about it, I won't rehash that again :P). More political shenanigans in the US… I did a virtual 99 minute workshop for Ministry of Testing for the UI Automation Challenge using C# which was fun and challenging, and I did a virtual talk for SauceCon as well. I wrote an article for my work's blog about using AWS Lambda to improve documentation. Speaking of work, I got to mentor this amazing woman as she started her career as a software engineer – we still have weekly check-ins even though she's no longer on my team. I had back surgery for those issues I posted about at the end of September, and after some complications delaying my recovery I'm now able to start PT and get back to being a human again. Some more personal stuff went wonky but not terrible. They found something in one of my brother's routine brain MRIs and did surgery – thankfully the cancer didn't seem to be back, but they're taking precautions. My dog also had a brain tumor and cancer, and we got radiation for him (thanks to the WeRateDogs community we were able to pay for it!) – we're still waiting to see if it helped (follow up in March). So yeah, 2021 has had its ups and downs to say the least.
So that's basically the past 2 years! I've been struggling to come up with goals for this year outside of health and fitness, but I know that I want to get back to speaking more – talks, podcasts, AMAs, workshops, etc. I have a new talk that's been rolling around in my head for the past year or so, just need an excuse to pull it together lol While I love travelling and speaking at conferences all over the world (19 cities across 5 countries so far!), I don't know when I'll be comfortable with travelling again, not just with the pandemic but also my back surgery recovery.
So here's a stab at a few professional goals! They may seem easy to reach for past me, but this is accounting for my increasing lack of spoons for this kind of thing 😀
Give at least 1 new talk
Give 5 total talks (talks, AMAs, podcasts, workshops included)
Write 1 (professional, not personal) blog post per quarter
See y'all in 2o22!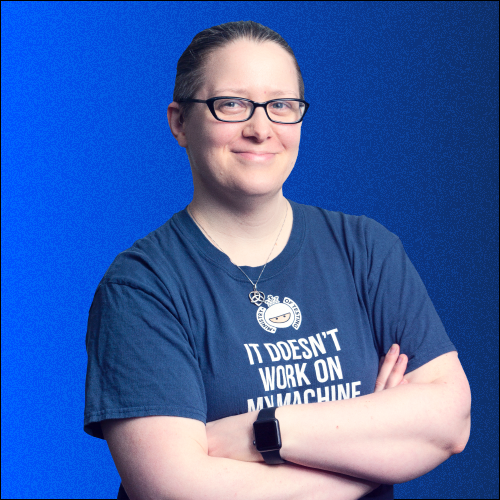 I'm Hilary Weaver, also known as g33klady on the Internets. I'm a Senior Quality Engineer working remotely near Detroit, I tweet a lot (@g33klady), and swear a lot, too.