A Birthday Surprise That Didn't Go To Plan (but was Still Incredible!)
I was really excited for my birthday (March 10th) this year because I'd turn 42! If you're not a fan of Hitchhiker's Guide to the Galaxy, 42 is significant in that is the answer to Life, The Universe, and Everything! My husband and I have matching '42' tattoos on our ring fingers, with sappy reasons you can infer (photo credit to David Giard). Anyway, I wanted to have a small birthday party with close family (our COVID bubble as it were) with a Hitchhiker's Guide theme. My husband said "I'll take it from here" and we had it scheduled for the 13th.
The week of my birthday, gifts from my husband trickled in. He said the big gift wouldn't be ready til just before the party and I had no idea what to expect. I also put in notice at my job of 9 years that Monday…
Then, on my birthday in the afternoon, my husband got the call that his dad had died in a car accident. We were still in shock and he decided to present me with his unfinished gift right then, rather than wait, and before the reality of what happened set in.
He proceeded to show me videos from friends, family, and members of the dev and testing community. Each of these videos were heartfelt and sweet and wished me well and told me how amazing I am etc etc. I was bawling my eyes out, it was so sweet and unexpected. And the final video – a Cameo from Jessie Graff. She is an athlete I truly admire (American Ninja Warrior, stunt woman, just incredible) and she gave me some post-surgery advice and wished me a happy birthday as well. He was going to put all of the videos together into one and present it to me before the party. Obviously we cancelled the party and the full video project will be put together at a later date. I still tear up when I think about it – y'all in the community are so wonderful!
I had my last day of work at that job of 9 years on the day of my father-in-law's funeral. At the funeral, people talked about how loving he was, what they loved about him, and moments they'll never forget. Thinking about it now, I've been given a gift that not many people get! Most people don't know how they've affected other people's lives, it's shared after their death. "I wish I would have told them how I really feel/how proud of them I am/how they've really helped me" etc. but I have that, and on video! I can watch at any time and remember my effect on the community and my family and friends. What an incredible gift I've been given.
I'd like to encourage you to reach out to someone in your life and share with them how they've helped you, or how they have a positive impact on your life. Tweet it publicly if you want, or send a private message. It will be appreciated! Don't wait until it's too late – tomorrow is not guaranteed. Life is way too short.
And to all of those that sent videos to my husband and kept this amazing secret – THANK YOU SO MUCH! I love you all! I really appreciate the lovely messages and how you all made me ugly cry 😀 When things have calmed down a bit, I'll watch through the videos again and send individual thank yous – currently, I can't remember specifics because it's been a roller coaster since that day (as expected, really). But know that I appreciate you and your message so much.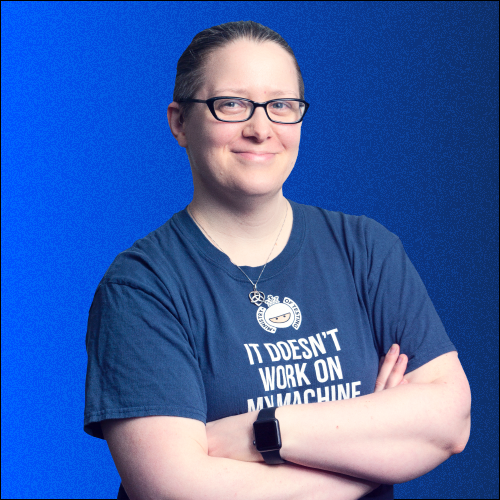 I'm Hilary Weaver, also known as g33klady on the Internets. I'm a Senior Quality Engineer working remotely near Detroit, I tweet a lot (@g33klady), and swear a lot, too.