On being a (not so newbie) speaker
A few months ago, I received an email from someone that attended my very first conference talk, at QA or the Highway in February. They were from $Company, and lead a QA team there. They thought that my talk would be great for their team to hear, and asked that I come to speak to the team. Instant freakout! That was my first time speaking at a conference! Holy shit!
I replied that I was interested for sure, and we set a day and time. I got my talk ready, by making a few changes from the conference, updating a few points and adding some things.
I also started setting up a drinkup for the time I would be there, to catch up with testers in the Columbus area. That turned out to be an excellent decision. And Mr. Keith Klain introduced me to the Per Scholas folks in Columbus, and asked that I stop by and speak to them as well – a casual conversation about being a tester and just being a IT professional. And that he'd pay for the drinks! Bonus!
So now I was on a mini speaking tour. Time for the Imposter Syndrome to kick in…
I drove down on Father's Day, checked in to the hotel, and went to the bar. The original one we chose was closed, so we moved on to another – we're testers, we adapt well to adverse situations!
Now for the conversation at the bar. I met up with Damian Synadinos and Diana Wendruff – two awesome folks in the test arena in the Columbus area. We talked about why I was in town, and who I was speaking to. Damian offered some advice that proved incredibly valuable to me – this could be a "quick fix" by management, try to make everyone get along by bringing in this speaker. Some of the folks there in QA are *not* testers by profession, they probably don't want to be there. That, in itself, was extremely helpful. I had not thought about it yet, but here's what I realized:
speaking at a conference, people have chosen to be there or at least chose to be at your session, and can walk out at any time if they feel it doesn't apply to them. Speaking at a company, people are most likely made to attend your talk. They have other stuff to do, and if they don't want to be there or it doesn't apply to them, they can't leave – they can only sit there. You're giving it your all, showing your passion to them, and some of them just don't care. Maybe even resent you.

AND THAT'S OK!
Speaking in front of an audience like that was intensely different than at the conference. At the conference, the attendees were engaged and interested, and they laughed at my jokes! At this company, I was just like "management" to most of them – throwing a message at them that they didn't care about or believe in.
Now I'm not saying every person that I spoke to there felt this way – there were a few attentive faces. But for the most part, it was the "ugh, I'd rather be doing my job right now" face. Without that realization – without that conversation at the bar! – I wouldn't have been prepared. I would right now probably still be crying from the experience 😛 Lesson here – always get drinks with your buddies! Or something…
Then I went, directly after, to Per Scholas. Per Scholas is an amazing program that provides IT training and job placement to low income folks. This audience was the complete opposite of who I spoke to earlier in the day – they were excited to have someone come in to speak to them that was doing in the real world something that they could do in the very near future. I gave a quick rundown of my resume essentially, and opened it up for questions. Some great, intelligent questions and excellent conversation. They asked for my contact information and business cards (nobody at $Company did!) which I happily provided – I'm happy to answer any of their questions privately, or connect with them on LinkedIn. They are an awesome group of women and men that have a very bright future ahead of them, thanks to the Per Scholas program.
A few of the points I tried to make there:
You absolutely do NOT have to know how to code to be a great tester
However, knowing how code comes together will help you (the process of dev)
When I was hiring for testers, I was looking for:

Passion for software quality – beta testing games? providing bug reports for software you use every day?
Excited by puzzles – if you have to figure something out, you don't get frustrated easily
Intelligent and willing to learn – I don't care if you have a degree, but if you're not willing to learn buh-bye
Admit when you're wrong or don't know – srsly, don't lie or inflate your abilities. It won't end well
Some technical aptitude – you have to be able to figure out how to troubleshoot. Or Google well 😛

Network network network! Look for meetup groups. Networking is how I got into this industry!
All in all, my mini speaking tour was great. I gained a lot of experience speaking in front of a not-so-accepting crowd, and got to meet the amazing Per Scholas organizers and students, and of course drinks with some great testers (paid for by Keith Klain!).
I'll be speaking at the Quicken Loans internal Technology Conference in July, and then again at CAST in August. Then I think I'm done for the year! And I'm getting married next year, so probably not doing much next year… Though I started 2014 with the hopes of speaking at a single conference, and am ending up speaking at 3 plus privately for a company and Per Scholas. So who knows!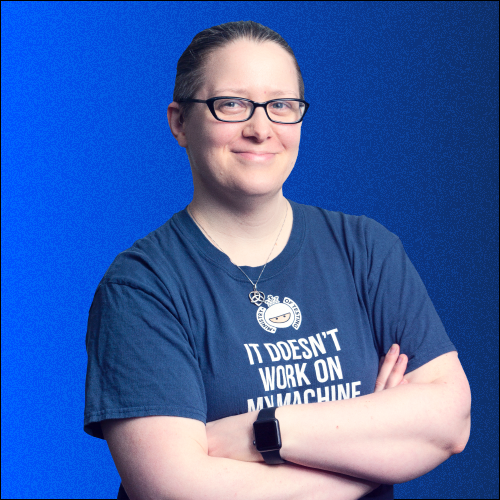 I'm Hilary Weaver, also known as g33klady on the Internets. I'm a Senior Quality Engineer working remotely near Detroit, I tweet a lot (@g33klady), and swear a lot, too.