I get involved in a lot of things around technology, especially with kids in Detroit. I love being able to help these kids not only see a future in technology for themselves, but to help them get there.
I became the Vice Chair of the Information Technology Pathway Advisory Board for Detroit Central High School in December of last year. In that role, I'm helping students at Central indirectly – mostly via finding learning opportunities, funding, and advising on curriculum.
A project the sophomores had from March centered around Autonomous and Electric Vehicles, and pulled in curriculum from Computer Programming, Chemistry, Geometry, Art, and Government. The students, in teams of 4, had a few tasks to complete, with the best team taking home some sweet prizes.
Computer Programming – Students will assemble, program, and market an Autonomous Vehicle using Lego MindStorm.

Chemistry – Students will investigate the pros and cons, efficiencies and inefficiencies, of using battery powered vehicles by assembling battery powered motors.

Geometry and Art – Students will design and build a to scale city for test driving their autonomous vehicles.

Government – form arguments for/against mock proposals supporting Autonomous and Electric Vehicles
The students had field trips to the M-City autonomous testing location in Ann Arbor and  the GM Battery Lab, and had industry experts join them in the classroom for Q&A.
All of this work culminated in a symposium, held last week. Students presented their work science-fair style, and all of the city blocks they built were placed in the center of the room where the cars were test-driven. Visitors were to go around to each team's table, hear their arguments and observe their autonomous cars, and vote on who had the best car company, the best designed city block, the most persuasive presentation, and the best overall presentation.
I can't tell you how impressive this was. These students are pretty amazing! They built the cars, did some programming on the fly, created brands for their cars, stood professionally at their tables and argued their cases. The big winners each got to take home a laptop!
I love working with this school, and feeling like I'm helping to make a difference for them. These students can see, from this symposium, that the community cares about their success, and wants the best for them. I can't wait to see what we plan for next year!
This slideshow requires JavaScript.
In this video, the students were testing out their vehicles before it was "official" – obviously some reprogramming needed to happen for some! We've all been there, though! I reassured some students that I know exactly what it's like when your code works one minute then it doesn't as soon as someone else looks over your shoulder 😉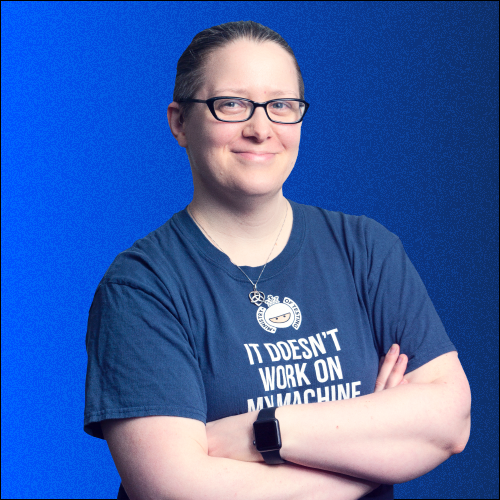 I'm Hilary Weaver, also known as g33klady on the Internets. I'm a Senior Quality Engineer working remotely near Detroit, I tweet a lot (@g33klady), and swear a lot, too.