Care and Feeding of Needful Conference Goers
I've been asked a number of times by conference organizers for some help with feeding gluten free folks. So I decided to write up a few helpful tips – if you have any questions or need some consulting, let me know – I'm always happy to help make those with dietary restrictions enjoy conferences just like everyone else.
Why should I care about gluten free (or dietary restricted) attendees?
1 in 110 people have Celiac disease, an auto-immune disease whose only cure is to not consume gluten. Even more people have gluten sensitivities, and then there's the allergies. So chances are you have several of these folks that want to attend your conference. Have you ever attended a full-day (or multi-day) event, not knowing if you were going to be able to eat anything while everyone else talks about how full they are, and how great those cookies were during the afternoon snack? It can be a bit hard to imagine, and it's terribly hard to concentrate on the conference when you haven't eaten anything (or have only eaten the snack bars that you brought with you). Also, this post: http://g33klady.wordpress.com/2013/07/28/people-always-ask-warning-not-qa-related/
Ok, say I care about these people. What can I do?
Hooray! Good for you for being aware of the issue! Here ya go:
Ask about dietary restrictions on the registration – This is a trigger to these attendees that you give a shit that each and every attendee feels included and cared for.
Don't be afraid to ask specifics about sensitivity – For gluten free diets specifically, sensitivities can range from fad diet (eat gluten free unless a better option presents itself) to gluten sensitivity (eating gluten free makes me feel better, so I try to avoid it as best I can) to Celiac or allergy (if I eat even a crumb of gluten I will throw up all over you or end up in the ER). Nothing is worse than bending over backward for someone to get them special gluten free food, and they say "oh, well, I'm gonna have the Chinese buffet that everyone else is having even though there's gluten in everything" – this is from experience. Just ask!
Appoint a "food" person – Have an email address, name, or phone number for your needful people to contact; put it on the registration page, confirmation, website, whatever. There's nothing worse than registering for a conference, then sending an email to the ether of their "info" email address and never getting anything back. A go-to person will make us folks feel comfortable and again, you'll show that you give a shit.
Let your attendees know ahead of time what to expect – All of these things are to ensure the feeling of security of the attendee. Ever have to go to a meeting from 11:30am-1:30pm, but there's no mention of lunch in the invite? That feeling of "should I eat before, should I bring my food, who should I ask about this (the CEO? The assistant?)" – that is the feeling that you're trying to avoid for an entire day. Plus these folks are most often paying to attend – it's the least you can do to make them feel comfortable and secure.
Some Food Suggestions
Breakfast
Fruit cups or fresh fruit are usually good. Also, you can get a box of Kind or Lara bars for these folks (especially if you have bagels for the rest). Ever try to make it through 4 hours of a conference on nothing but fruit and coffee? Or just coffee? Yeah, not a good scene usually 😛
Be prepared – those that can eat gluten will gladly snag a Kind bar. Either plan ahead and get plenty or keep them segregated. It sucks to have to get food from the "special" section, but sucks worse to not eat…
You can never go wrong with bacon (unless they're vegetarian or don't eat pork, of course)
Gonna do a buffet? Food service scrambled eggs aren't just eggs – they often have something to fluff them up, like pancake batter. Hash browns? Those often have gluten in them too. You'd be surprised what's in that shit… Pancakes or waffles, with gluten free options? Do you have separate griddles, utensils, etc. for them?
Always be wary of buffets – if you have separate gluten-free stuff, maybe keep them apart from everything else.
Snacks
Again with the fresh fruit. Nuts are usually a good option, but for trail mixes you have to be careful – a lot of them have the extra shit.
Be wary of the cheese/meat/cracker trays – those usually have cross contamination up the wazoo. Not all cheeses or meats are gluten free, and if a non-gluten free cheese is touching a gluten free cheese, it's now also not gluten free.
Also potato chips – there's a lot of gluten free options out there, even Frito's, Kettle Chips, Lay's Classic, etc.
Popcorn can have gluten in it, too (in the bag-o-butter that comes with it), so be careful there, too.
Don't forget dessert – when those gluteny people are enjoying a nice cookie with their coffee, maybe have some macaroons too (gluten free ones from Tim Hortons, even!). Just always be sure to check the labels!
Lunch/Dinner
See above about the buffets – if just one person decides to use the wrong tongs, the gluten free person is out of luck. I love when a place will either a) have a plate made up for me already, b) let me have first dibs so the cross-contamination risk is lower, or c) have the gluten free stuff separate from the gluteny stuff.
I have had many a salad at a conference and let me tell you – going a whole day with only fruit and coffee for breakfast and a skimpy fucking salad for lunch makes me grumpy and not receptive to the conference content (and I might tweet angrily about it…). A salad as part of a meal? Sure! But a salad that's just lettuce, some veggies and dressing? That's not enough to get through the day. Oh and a lot of dressings have gluten in them, too.
"Jimmy John's has a lettuce wrapped sandwich, right? That should be ok, right?" – for the trendy's, sure. For the Celiac's, no. They're not careful enough, and the meats aren't all safe. It's a crap shoot, pun intended.
"What about pizza? Domino's has a gluten free pizza now!" – yeah, but they use all of the same equipment on it as they do the gluteny ones. Again, for the trendy's sure, but not for the sensitive folks. Cottage Inn makes a great gluten free pizza, which they keep separate.
Chipotle and QDoba have their burrito bars with lots of gluten free options – as long as the tortillas are kept separate, they're safe.
Dinners Out
Taking some folks out after the conference for some dindin? Some options where most everyone is happy are chains: Outback Steakhouse, PF Chang's, Bagger Dave's, Red Robin, Mitchell's Fish Market, Five Guys, Chili's – all have gluten free menus, and most are pretty good about training their staff to make a gluten-free experience great.
Conclusions etc.
Overall, when offering options for your gluten free attendees (and other dietary restricted folks), think about how you would feel if that was all you were able to eat. Could you make it through all of those jam-packed sessions on just fruit, coffee, and salad?
Label the gluten free stuff! This gives those folks some peace of mind and independence. I've been to a conference where I had to find someone on staff, then they had to run to the kitchen to get another person, who had to come back out and show me what I could eat (most of which was already cross-contaminated in the buffet lines). If it was labelled in some way, I would have been able to jump right in line and get more to eat.
Give the needful folks some peace of mind – let them know ahead of time that you're thinking of their needs when planning the conference. I hate being told "talk to someone when you get to the conference". I'm a planner, and having a restricted diet I'm even more so. Not being able to plan is a huge pain. Especially when you're away from home, and perhaps can't get to a decent grocery store to stock up on real food.
Any questions? Want some help? Hit me up on here or twitter or gmail!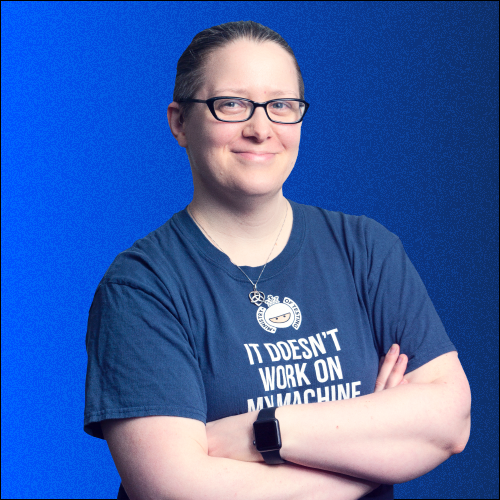 I'm Hilary Weaver, also known as g33klady on the Internets. I'm a Senior Quality Engineer working remotely near Detroit, I tweet a lot (@g33klady), and swear a lot, too.